Many of today's advanced digital hearing aids are Bluetooth or wireless compatible, meaning they are able to connect wirelessly to various Bluetooth enabled devices and other audio devices such as cell phones, TV's, IPods, and computers. Each major hearing aid manufacturer offers different wireless solutions for their hearing aids, but most often solutions consist of the hearing aid wearer wearing a streaming device to "stream" audio output from an audio device (such as your cell phone) directly to your hearing aids.
Most hearing aids with wireless capabilities are able to connect to landline phones, cell phones, TVs and MP3 players with a simple push a button on a streaming device. These streaming devices essentially turn your hearing aids into a hands free headset, allowing you to hear output from other audio devices through both of your hearing aids at the same time.
Wireless or Bluetooth Benifits
Some of the benefits of purchasing hearing aids with wireless or BlueTooth capabilities
Ability to hear audio devices with both ears for optimal listening
Ability to switch between TV, landline phone and cell phone with a simple push of a button
Streaming device most often can be used as a remote control for your hearing aids as well
Stay connected to the devices that matter most in your busy life
Ask Dr. Stakiw for further information on Bluetooth devices.
ReSound™ offered a new way to stream with Bluetooth.3> Easy, direct connections to clear speech and sound
Say hello to ReSound LiNX™, the world's smartest hearing aid. Now you can connect to what you love through your iPhone®, iPad®, and iPod Touch® and enjoy high quality sound through hearing aids that are also wireless stereo headphones. All without a neck-worn device. Hear the instructor on your fitness app, or turn-by-turn instructions while you're driving. Even learn a new language before going on holiday. With more than 1,000,000 apps in the App Store℠, you can choose exactly what you want to hear through your ReSound LiNX™ hearing aids.
Ready to see if ReSound LiNX™ is right for you?
Other Bluetooth Accessories
Schedule an appointment with us at 970.926.6660 or 970.945.7575.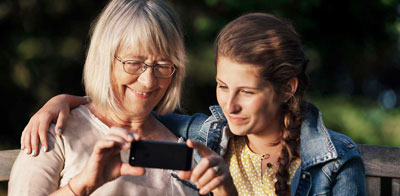 No matter what your hearing loss, level of social activity or financial budget, Rocky Mountain Audiology will help you find the appropriate hearing aid for you.
See More Testimonials